Vehicle Relicensing
Tax your vehicles online

The easy way to relicense vehicles
Would you like to relicense your entire vehicle fleet without leaving your desk? With 1link Vehicle Relicensing you can renew your Road Fund Licences electronically with the DVLA.
The principal function is to enable system to system transfer of licence renewal information, replacing manual, resource-heavy processes and also negates the need for valuable resource to queue at the post office for hours. 1link Vehicle Relicensing will deliver you massive savings in time and resource.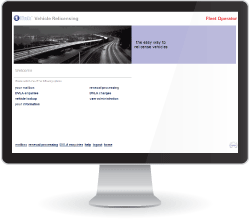 If you would like more information or a demonstration of Vehicle Relicensing, please phone 0845 130 6120* or click here to complete our enquiry form.
Vehicle Fleets
For fleets of more than 1000 vehicles, 1link Vehicle Relicensing enables companies to relicense their vehicle fleet electronically and directly with the DVLA.
The monthly renewal process is as follows:
An electronic renewal notification file is received from the DVLA
1link compares the DVLA's list of vehicles with an extract from the user's fleet database
1link identifies any exceptions that need to be investigated
Once the vehicle list is confirmed and agreed, the renewal periods can be amended as necessary
An electronic file is sent to the DVLA containing licence renewal requests for the month
The DVLA return an electronic debit statement