Vehicle Network
Source or supply new vehicles

Source or supply new vehicles
1link is designed to greatly improve the processes involved in vehicle ordering and sales. More importantly, we're not trying to change the world, just make life easier! 1link will complement your current processes, not force you to change them.
Vehicle Network has been designed to massively simplify the ordering process between corporate fleets and contract hire and leasing companies who purchase new vehicles and the franchised dealers and manufacturers who supply them. Purchasers can use their current supplier network, dealers can sell to their own customers - but by using 1link, you can do it more efficiently.
1link offers an efficient, low cost communication tool for vehicle purchasers and suppliers alike. The system creates an electronic trading community bringing a host of major benefits to both suppliers and purchasers in a new and innovative way.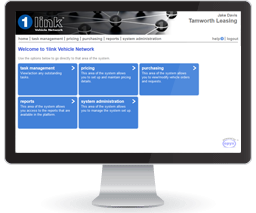 Vehicle Suppliers
The UK's leading vehicle purchasers are using 1link to source and acquire their vehicles
It will provide you with the opportunity to promote offers and vehicles that are immediately available straight to the desktops of the UK's vehicle purchasers
1link Vehicle Network massively reduces the volume of wasteful fax and telephone activity, freeing up your time to concentrate on more productive and profitable communication
Would you like to gain access to the UK's leading fleets?
You can now accept and respond to multiple vehicle requests in a structured, effective manner and communicate delivery information, vehicle details and routine messaging in a timely and efficient manner.
1link Vehicle Network substantially increases the quality and quantity of the ratio of enquiries to orders
The system stores all enquiries, vehicle specification, transaction information and communication between yourself and the purchaser, thus ensuring absolute quality and zero errors
Your information will be displayed in the 1link supplier directory for the UK's leading fleets to see
If you would like more information on 1link Vehicle Network, please phone 0845 130 6120* or click here to complete our enquiry form.
If you would like to view the terms and conditions, please click here.
Vehicle Purchasers
Substantial savings in time, resource and money
Stops human error in vehicle purchasing process
Access up to date information on all UK makes and models, including colour, trim, standard equipment and optional extras
Comprehensive order tracking facility provides up to date information on order status, confirmed pricing, delivery dates and delivery details
The report suite and extract features act as a powerful tool to manage information centrally
Electronically record your commercial arrangements for discounts, customer information, manufacturer bonuses, delivery pricing and much more
High level task management view so you can see at a glance any incoming actions, outstanding tasks and a summary of all orders
Request test drives and receive comprehensive updates on their progress
Ability to interface to 1link Vehicle Network directly from your quotation system, avoiding the need for double keying
Interface directly to 1link Disposal Network for return vehicle movements
Just imagine how efficient a fully automated vehicle source and purchase system could be.