Hire Network
Manage vehicle rental

Vehicle rental made easy
Would you like to access and manage your vehicle rentals from your desktop? 1link Hire Network is the leading solution to accommodate your complete vehicle rental needs. This internet based e-commerce system links fleet rental purchasers with their suppliers to fulfil their hire requirements seamlessly and effortlessly.
The whole process from on-line vehicle selection, reviewing comparative quotes, selecting suppliers, through to order tracking and in-life hire process including invoice delivery and validation is conducted electronically through the system.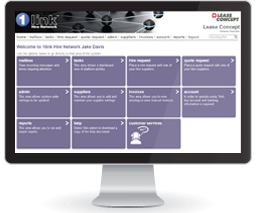 Hire Suppliers
1link Hire Network will provide you with instant access to some of the UK's leading fleets, therefore you will retain your relationships with existing customers in addition to opportunities to build on them and establish new clients
Access via a single, common system removes the need for costly, bespoke interfaces to numerous client applications
Consider how much time and effort you will save with minimal invoice rejection and a completely paperless invoicing process
Reduce the costs of your customer support programmes through the elimination or reduction of the number of implants required locally
Enjoy a massive reduction in both telephone traffic and administration costs through the automation of the vehicle hire booking and invoicing process
Gain access to the very latest in leading edge technology without the usual heavyweight investment in IT
If you would like more information or a demonstration of 1link Hire Network, please phone 0845 130 6120* or click here to complete our enquiry form.
Vehicle Fleets
If you are involved in arranging and controlling hire vehicles, then this is the system for you. 1link Hire Network will provide you with the ability to manage the complete vehicle hire process through this industry wide platform.
One common platform bringing car rental suppliers and purchasers together realtime
Enjoy access to online multi-supplier quotations and hire pricing
Ensure invoices are always correct by electronically validating them against authorised bookings
Cut down on telephone traffic and benefit from the reduction in resource required to manage bookings
Eliminate the errors usually associated with the vehicle rental booking process
Stay in control by receiving automatic prompts on predefined dates to monitor vehicle hire transactions through task management functionality
The system even gives you the flexibility to set up branded customer sites to suit you or your client's branding requirements
A single system which interfaces with all your hire suppliers