Disposal Network
Buy or sell pre-owned vehicles

Vehicle disposals... the alternative
The system will improve customer service levels and increase the potential for greater profits through low cost access to a combination of suppliers and sales channels. Being internet based you will enjoy instant access, making it far easier to transfer vehicles and reduce the holding costs of your vehicle fleets.
Ultimately you may increase profitability through more effective supplier communications, higher selling prices and efficient transaction processing.
1link offers an efficient, low cost communication tool for vehicle purchasers and suppliers alike. 1link Disposal Network offers buyers direct access to a wide range of good quality, well maintained ex-fleet cars and LCV's from a number of the UK's leading fleet operators, through a single platform. The system creates an electronic trading community bringing a host of major benefits to both suppliers and purchasers in a new and innovative way.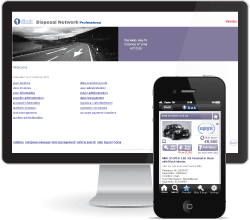 Purchasing Used Vehicles
Imagine being given access to the used vehicle stocks from the UK's leading fleets through a single system. 1link Disposal Network allows fleet, leasing and manufacturer businesses to give you access to detailed information on vehicles available for purchase. 'Retail Ready' vehicles are also available through franchised dealers who have registered.
This is the most comprehensive and exciting platform that can provide access to ex-fleet, leasing and manufacturer vehicles.
One system providing the vehicle fleet industry with the ability to transmit vehicle sales details directly to your business
Access to comprehensive vehicle details including age, mileage, condition and pricing
Vehicle collection and delivery processing including online tracking
A comprehensive online purchasing facility combined with electronic invoicing
The option to set vehicle profiles so that you can be alerted by email, fax or SMS when vehicles of specific interest become available
Mobile apps allow you to browse, bid and buy vehicles even when you're on the move
If you would like more information or a demonstration of 1link Disposal Network, please phone 0845 130 6120* or click here to complete our enquiry form.
Selling Used Vehicles
Just imagine the efficiencies and control you would enjoy with a single system for your disposals.
One system to cover all processes
Comprehensive vehicle information throughout the remarketing process
Improved realtime communication between vendors, suppliers and buyers
Automatic event scheduling covering inspections, movements and repairs
Ability to transact with multiple suppliers
Support for retail, customer and staff sales
Fast and efficient job processing through a user-friendly dashboard